What to expect from the design process…
Inspiration –
Site Meeting –
Landscape Plan –
Building Your Garden –
Care and Maintenance
Inspiration
Design is an opportunity to strengthen the bond between people and nature – to create beautiful, resilient habitats for people and wildlife. The better matched the plants are to the growing conditions, the more sustainable and easily maintained the garden will be.
An eco-inspired garden isn't wild-looking unless you want it to be. It may be decidedly restrained, simple and serene or exuberantly dramatic. It may transition from one mood to another as you move through a series of garden rooms. A welcoming entryway courtyard, a dining patio surrounded with aromatic herbs, a serene bedroom patio with hot tub or outdoor shower and an open play- or work-space, a small spill of water recirculating from a subsurface reservoir, bird feeders outside viewing windows, a firepit patio open to the night sky – all may be destinations along your garden paths.
Native plants that evolved and are continually adapting to local conditions are the best choices for growing a resilient garden.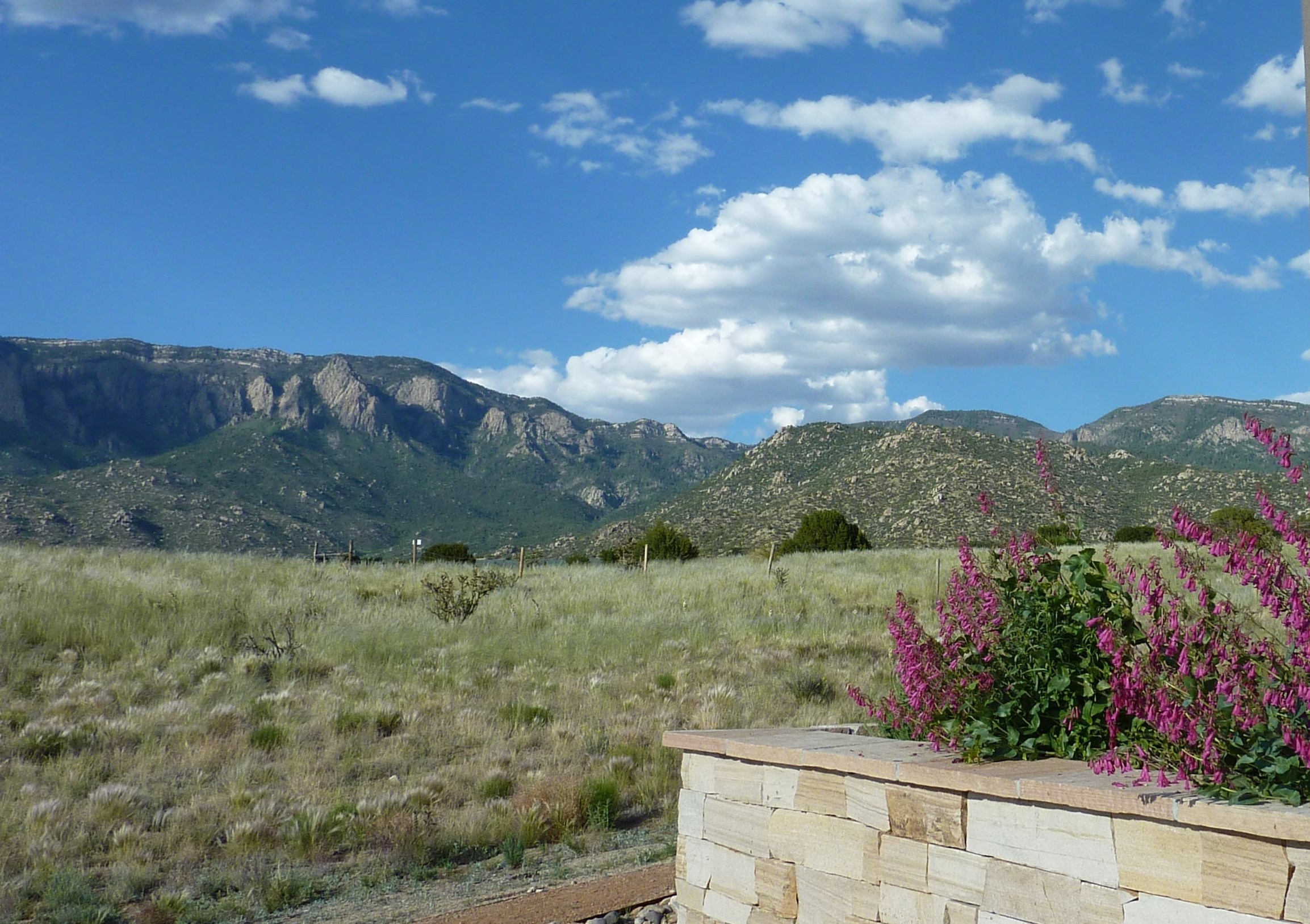 Site Meeting
The design process begins with a meeting on site to assess your priorities:

– Shaded, wind-buffered living space
– Patios for firepit, hot tub, outdoor shower
– Food plants, fruit trees, annual vegetables, and herbs
– Views preserved, framed, or created
– Potential to harvest rainwater
– Small water feature or seep pond for birds and dragonflies
– Children's play/exploration space
– Pet space
– Storage or other utility space
More questions:

– How densely planted do you want the garden to be?
– Do you like plants spilling over the edges of paths and walls?
– Or do you prefer more open space and distinct plant groupings?
– What colors of flowers and foliage do you prefer?
– Fragrances?
– Any allergens to avoid?
– Do you have favorite plants you'd like included?
– Do you want to attract birds and pollinators to your garden?
– How much time do you want to spend tending the garden?
Landscape Plan
A landscape plan drawn to scale is your roadmap to the garden you desire.
Design consultations for small areas may be completed on site in three or four hours, and may include a quick sketch drawn to scale plotting features such as: square footage of new paved areas, rainwater swales, basins, and soil sponges to capture stormwater and store it in the soil where plants can access it, plants specified by common name, quantity, and best transplant size, number and flow rate of drip emitters or other appropriate method of watering.
A comprehensive design, planning larger spaces in more detail, includes the above considerations but takes more time and layered thinking so is completed in my studio. It usually includes attached materials and specifications broken out by area, so that plans may be implemented in stages and cost estimates can be prepared for the entire project or per stage by contractors. The spec sheets also include recommendations for managing irrigation from planting until the garden is well-established.
It speeds up the plotting if you can provide a site survey at an unaltered scale showing a footprint of the structures on the lot and or construction documents showing doors and windows. Otherwise, I will measure and create the site map, noting existing features that will be integrated into the new garden.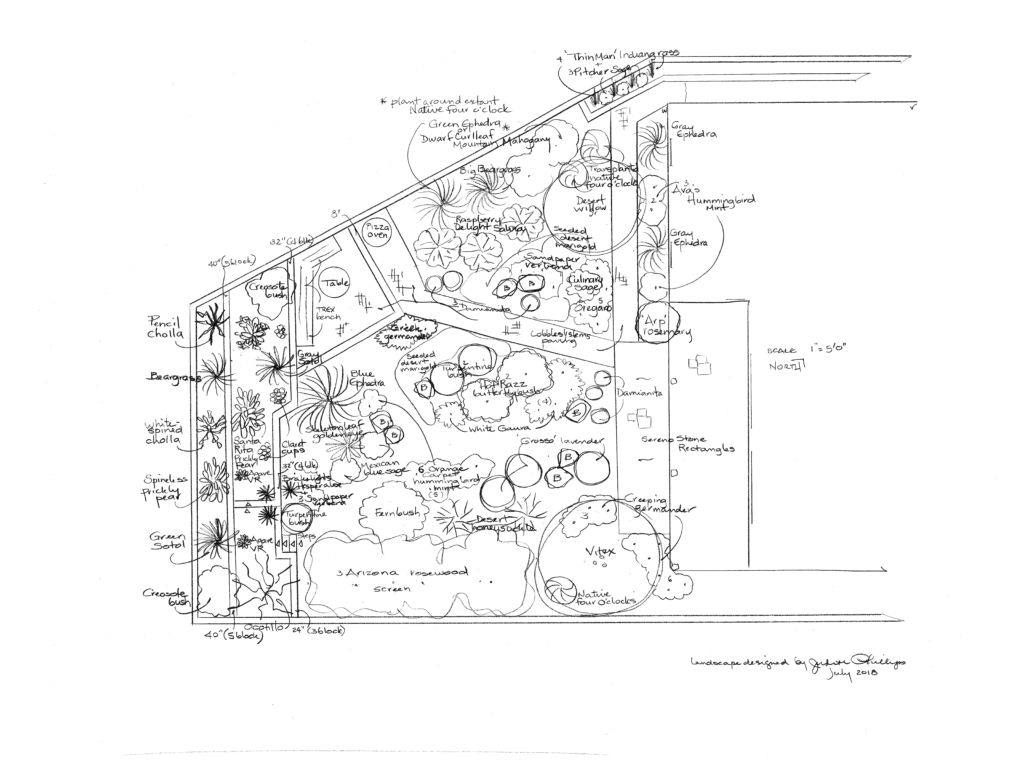 Building Your Garden
Whether you do all or most of the work yourself, do the parts of the projects you enjoy or have the skills to do and bid out the rest, or contract out the whole project, I provide a list of materials suppliers, landscape contractors, and other resources to help you realize the project.
If you are doing your project in stages, you may prioritize in several ways:
– Work on the areas that you will use the most first
– Plant trees and screening materials that may take a while to fill in
– Work on grading to harvest rainwater and paths to move water and people through the site

Whatever your priorities, remember not to block access for future stages of construction and planting.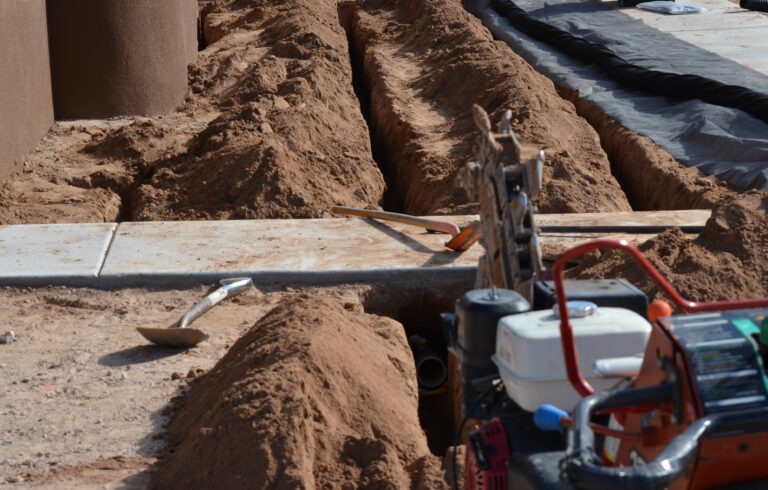 Care and Maintenance
All gardens require care, but I design spaces to be easily managed, interesting to tend and consistent with what your time, talent, and budget allow.
Occasional cleanups can scratch the gardening itch without the monotony of a weekly appointment with a lawnmower.
If you can commit to a few hours each month spent purposefully observing your garden, pausing to remove spent seed heads once the birds have gleaned their bounty, or to root out a weed here and there, you can have a beautiful garden.
If you have an artist's eye and sharp shears, sculptural pruning is a more sophisticated way to play in your garden editing out extraneous growth to amplify the character of key plants.
If you are new to gardening in the high desert or unsure about maintenance of native and arid-adapted plants, I can create a maintenance schedule including cleanup and pruning for the specific plants in your garden.
Management recommendations can take the form of a written document or a few hours on site consulting as the need arises. A written management outline may also serve as a guide for contractors you hire to do some or all of the maintenance.